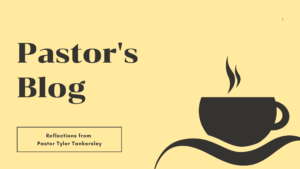 May 18, 2023
I'm currently reading a book called Praying like Monks, Living like Fools by Tyler Staton, a pastor in Portland, Oregon. In the opening chapter, Staton gives four reasons why we often do not pray and then gives four reasons why we should pray. This week we are going to explore the third and fourth reasons many of us don't pray as well as the third and fourth reasons why we should pray.
We Don't Pray for Fear of Selfish Motives
I think many of us have a hesitancy to pray that stems from a good place; we don't want to pray out of any selfish motives from within. We don't want to view God as a genie, so we instead just keep our requests to ourselves. But imagine if a child felt that way towards a parent. Imagine if a child held their wants within rather than ever expressing them.
We Don't Pray for Fear of Doing It Wrong
I am not at all musical (which is not a mystery to you all whenever I sing during a sermon). When I see the members of our orchestra playing their instruments, I am so intimidated by their talent. To me, it feels as if they have a part of the human brain that I simply do not possess. I think many of us think of prayer in the same way. We hear eloquent public prayers in corporate worship or we read sweeping, poetic prayers and we think, "I just don't have that skill." And it cripples our prayer life.
3. Pray Because Complaints are Welcome
Instead of being afraid of our own selfish motives, perhaps we ought to remind ourselves that scripture is chockful of self-centered prayer. Nearly half of the Book of Psalms are either complaints, calls for vengeance, or cries for help. These prayers are not in our scripture by accident! They are meant to teach us that God does not want to hear from us once we've calmed down and figured everything out; God wants to hear from us in the midst of our anxiety, our worry, our fear. C.S. Lewis said, "We must lay before Him what is in us, not what ought to be in us."
Pray Because the Only Way to Get It Wrong is by Trying to Get It Right
The only real criticism Jesus ever had of anyone's prayer life was when he lambasted those who treated prayer like it had to be a choreographed performance piece (Matthew 6:5). Instead, Jesus taught his disciples to simply lay their full, honest selves before God and simply talk. The Lord's Prayer has become fused with high-church liturgy for many of us, but in the Greek of the New Testament, it is written in simple, everyday language. Don't think about the logistics of prayer; focus on the relationship. Professor Roberta Bondi says it best: "If you are praying, you are already 'doing it right.'"
Sisters and brothers, thank you for allowing me to share some insights on how God has been teaching me lately in my prayer life. May these insights help you on your journey.