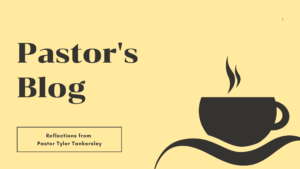 January 19, 2023
Recently the Center for Congregational Ethics asked me to contribute to their daily devotional series called Lectionary to Life. Each day they ask somebody to reflect on a passage from scripture. For my blog this week, I want to share with you the devotional that I wrote for Lectionary to Life's January 16 entry:
Clarity and Mystery
Exodus 12:1-13, 21-28
I grew up immersed in Christian culture. I can still hum the tune to McGee and Me! and we had a puppet of Gerbert. If I wake up feeling cynical, I tend to roll my eyes at the cheesiness I was spoon-fed from such programs. But, on my better days, I can muster up some gratitude for the foundation of faith they laid in my heart.
It's so difficult to know how to communicate faith to children. Some churches have thrown in the towel completely and have turned their children's ministries into nothing more than glorified babysitting services. Other parents are so anti-fundamentalist that they insist on communicating a confusing and nuanced faith. I wonder if perhaps those parents (of which I am guilty of being) are perhaps not trusting their children to figure faith out on their own terms.
Into this confusion, Exodus 12 speaks with clarity. The chapter begins with detailed instructions for the first Passover. Everything is regulated including how the lamb should be cooked, what to do with leftovers, and even what you should wear during the meal. But at the end of Exodus 12, Moses tells the people that they are partially performing this ritual so that their children will see them doing it. Moses tells the people that one day their children will come to them and will ask, 'What do you mean by this observance?' (v. 26) or in other words: "Why are we doing all this weird stuff?" The parents are to respond with simply: 'It is the passover sacrifice to the Lord, for he passed over the houses of the Israelites in Egypt, when he struck down the Egyptians but spared our houses.' (v. 27)
Moses tells the people to communicate their faith to their children with both clarity and mystery. Make it clear that these rituals are part of a grander story, but do not feel the need to explain away every detail about that story. Clarity and mystery. Both are invitations for children not to simply observe, but to join.
As both a pastor and a father, I join with others in sometimes wringing my hands over whether or not my three kids will retain any semblance of faith into their adult years. But, as Walter Brueggemann says in his book Hope within History, I am learning that is the wrong question. The better question is: Will our faith have children?