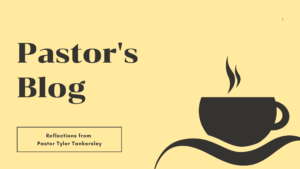 October 5, 2023
As some of you may know, this fall I began pursuing a Doctor of Ministry in Leadership and Spiritual Formation from George Fox University. I have so appreciated all of the kind words of encouragement and support I've received, so this week I just want to give you all a little update on how that work is going.
I did not want to pursue a conventional doctoral degree where you sit in a classroom ingesting information only to find a creative way to regurgitate it onto paper. Instead, I wanted to find a degree program that trained me to re-imagine how to problem solve in a congregational context. And that is exactly the focus of my program.
While there are over 30 people in my degree program, we have been placed into small cohorts of 4-5. All of the members of my cohort are currently serving in full-time ministry and we come from a wide diversity of experiences. The members are an associate pastor serving a nondenominational church in Arkansas, a youth minister serving a Lutheran congregation in Colorado, a children's pastor at a Presbyterian church in Oregon, and an Ethiopian Orthodox priest serving in Seattle.
For this first semester, we have been doing lots of interesting readings on how we discern what God is calling us to do and how we can examine our preconceived notions that we bring to the table. Two books that I've read this fall as part of my program that I would recommend to anybody are:
These readings have helped my cohort learn to identify what NPO (Need, Problem, Opportunity) we want to explore during our doctoral program. The requirement is that the NPO involve some aspect of pastoral ministry. There is a lot of grace to change one's mind throughout the program, but as it currently stands my NPO centers around the loneliness epidemic in our culture and what churches may be able to do to address it.
While I am hoping to extend my research beyond just this scope, I am beginning with the loneliness and isolation that is often felt by pastors. A recent Barna survey has found that over 70% of ministers report feeling lonely in their career and 65% cannot name a single close friend in their life. So, my initial research will involve holding a Discovery Workshop of ten full-time ministers to try to ascertain what is specific about the pastoral vocation that may contribute to this loneliness. Then I will be interviewing three experts for their perspectives: a pastoral theologian, the author of a book on spiritual friendships, and a spiritual director. All of that research will be compiled at the end of the semester into a charter document that will guide my studies for the next three years.
For the spring semester, I will be continuing my research but we will also begin to meet face-to-face once each semester at Cannon Beach, Oregon for times of spiritual formation and education.
I am continually grateful to God for the blessing of pursuing this degree and I am thankful to you, sisters and brothers, for allowing me the time to do this. It is a gift that I have a difficult time putting into words. I am so, so thankful.
Next week: I will be reflecting on Chapter Two: Losing Our Authority (p. 63-101) in Losing Our Religion.