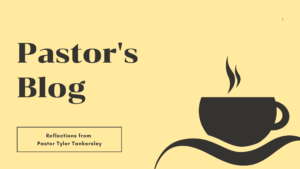 July 27, 2023
As you all probably know, our Minister with Students Dane Martin will soon be embarking on an eight-week sabbatical.
Sabbaticals are a gift that our church gives to our ministry staff. It allows them to take a break from the demands of ministry and to focus on renewing their sense of calling. I know it is a privilege that few people enjoy in their careers, and (as one of those slated for sabbatical in a few years!) it is hard to put into words how grateful we are for this gracious gift.
The practice of sabbaticals is based in faith (sabbatical=Sabbath) that recognizes that God has not created us to work relentlessly, but has made us to live into rhythms of work and rest. But there are also some seemingly secular reasons why sabbaticals are beneficial. The Harvard Business Review recently conducted a study and found that companies who offered sabbaticals saw significant, positive changes in their employees' work quality.
Our church has experienced a slew of sabbaticals recently. David had one in 2021 and came back with a new dream for our Early Service. Lee took hers in 2022 and has been diligently dreaming and imagining a new way for us to do ministry to 5-6th graders. And now, Dane is taking his in 2023. Gina is slated for her sabbatical in 2024 and then I will have one in 2026. As I said above, we ministers are extremely grateful to serve a congregation that offers sabbaticals. This string of sabbaticals also speaks highly of Ardmore Baptist Church; it says that Ardmore is a place that invests in its employees and takes their mental, emotional, and spiritual well-being seriously. I recently told a denominational leader that we were experiencing multiple sabbaticals in a row. He told me, "That is one of the surest signs of health I know of. Your church loves its ministers and the ministers love the church."
So, I want to invite you all to join with me in praying for Dane over these next few weeks. Dane and Gretchen will be traveling together in Europe, Dane will be spending time at Fuller Theological Seminary's Youth Institute, and he will be starting a certificate in healthy leadership through Cornell University. I am praying that Dane will return to us with a renewed sense of vision and a passion for leading our youth into a deeper awareness of God's love for them.
Let us all hold Dane, Gretchen, Finley, and Brooks in our prayers as they enter this sabbatical and return to us in a few short weeks.