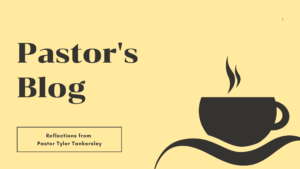 March 30, 2023
This week, we have a guest blogger: my wife, Jessica (who goes by Jess). She wanted the chance to reflect on what it means for her to serve as the spouse of a pastor. I am grateful for her honesty and grace (and any nice things said about me were included against my will). I am thankful that the rest of you get to experience just a taste of her wisdom and kindness through these words:
For the first year of our marriage, I remember having multiple conversations with people about his future plans. Often these conversations would end with me saying, "Yes, I know that he would be an amazing pastor, but he is focusing on anthropology and pursuing that as his career. He just doesn't see ministry as his future." Always in this statement was a bit of resignation, knowing that Tyler really would be a wonderful minister, but trusting him to follow his heart and God's leading in his life.
As we were getting ready to graduate college, we were looking at what might be the next steps for us. It was both exciting and daunting to have the world laid out as a possibility. Surprising to no one so much as the two of us, we found ourselves heading toward Kansas City for Tyler to pursue a ministry job and seminary.
Those in our current congregation can see where this story takes us as Tyler now nears his fourth anniversary at Ardmore Baptist Church. Over the past 15 years of our marriage, we have felt God calling and reaffirming Tyler's place in the pastorate. Each day I see the parts of Tyler that leave him well-suited for ministry: his kind heart, his intelligence and commitment to study, his ability to connect well with others.
Harder to see, and something that I have had to work out over the years, is my place and my role. In the first church that I attended as a teenager, The Pastor's Wife ™ was a very specific role of power and prestige. You wanted to host a baby shower in the fellowship hall? Better ask The Pastor's Wife ™. Choosing a new paint color for the foyer? Well, that's the job of The Pastor's Wife ™! Concerns about members of the congregation? Call up The Pastor's Wife ™.
Those that know me probably find it plain to see that this is not my gifting or desire at our church. But that still leaves the question: what is my role?
Through prayer, experience, and good ol' fashioned grace I have learned what it is. To maintain my own faith, in times of the mundane and in times of the extraordinary. To love my husband well, always being the one waving cheering him on in his successes, comforting him on the hard days, and spending hours (HOURS) throwing theological "mashed potatoes" against the wall over hot tea (him) and Diet Dr. Pepper (me). To parent my children well and model what it means to be human and to finds deep meaning in my faith. To quietly serve, to warmly love, and to always see the best in the people in my community of faith.
Do I do these things perfectly? Never. Do I find it a privilege to be here, serving alongside such a wonderful and thoughtful community of believers? Always.
Thank you, Ardmore Baptist Church. For so many things, but certainly among them not asking me to be The Pastor's Wife ™ but instead allowing me to simply be Jess, who happens to be married to the pastor.