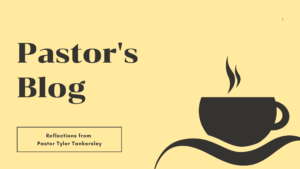 March 16, 2023
I have to be careful with To-Do lists. On the one hand, they help me to stay focused on the tasks at hand. But on the other hand, my To-Do lists can fill me with a contrived sense of finalized accomplishment. The truth is, if I allow myself, I can become overwhelmed by the amount of work that needs to be done in order to be fully done. There is always one more tweak I could make to a sermon, there is always one more closet in our home that needs to be better organized, there is always more that could be done to the yard.
Lately I feel like the Lord has been teaching me to rest in the midst of imperfection rather than pining for some false sense of finally being done (read: perfect) before I have earned to deeply breathe and delight in life's infinite goodness.
During the season of Lent, my wife's Sunday Bible Study (Faith Quest) has been using a recently published book of prayers written by Kate Bowler and Jessica Richie called The Lives We Actually Have. Not long ago, I read a prayer called "For an Unfinishable Day" and my soul thrummed with the feeling of deep recognition:
"For an Unfinishable Day"
God, it seems that stopping is impossible.
Dishes need to be washed.
Kids need to be fed.
Aging parents need to be cared for.
Deadlines need to be met.
Medicines need to be administered.
Diapers always need to be changed.
(They multiply if I sleep, after all.)
Can you ease the burden of perfection?
Free me from this fantasy
of the better me –
my new exercise regime,
my sumptuous (healthy!) new recipes,
the way the perfect placement
of my living room furniture
would flatter the afternoon light
on my social media feed.
God, make me more than perfect.
Make me more than a job or role,
or what I had planned for my golden years.
Make me something less predictable
than my to-do lists
and daily calendar.
In this culture of more, more, more,
make me less.
Less tidy and afraid,
less polished and buttoned up,
less prideful and judgmental.
Turn down the volume of my expectations,
and let me hear the birds sing
another lovely truth:
I am deeply and wholly loved.
I am beautiful and somehow delightful
even as I am unfinished.