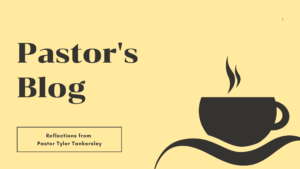 February 23, 2023
A couple of years ago, there was a popular phrase that was used in conversation amongst Millennials: "The struggle is real." You would use it as a kind of tongue-in-cheek admittance when something was difficult. "Boy, traffic today was really backed up on I-40. The struggle is real." "The barista just cannot spell my name correctly. The struggle is real." It was a kind of funny way of admitting when you had come up against a difficulty in life.
Well, the season of Lent is about struggle. Before we can step into the bright light of Easter Sunday, we must take the journey that leads to Palm Sunday, Maundy Thursday, and Good Friday. Lent is the liturgical season that prepares us for Easter and it is about embracing the struggle. During Lent, we admit our need for God and that we are struggling to be faithful. The struggle is real.
During this season of Lent at our church we will be exploring passages from the Gospels that look at moments in the ministry of Jesus in which there was a struggle. My hope is that these messages will give us tools in our times of struggle so that we might faithfully follow Jesus in truth and grace.
February 26 (1st Sunday of Lent) – Struggling with Temptation (Matthew 4:1-11)
March 5 (2nd Sunday of Lent) – Struggling with Expectations (Matthew 17:1-9)
March 12 (3rd Sunday of Lent & Baptist Women in Ministry emphasis) – Struggling with our Past (John 4:5-42); DeNeal Fowler preaching
March 19 (4th Sunday of Lent) – Youth Sunday
March 26 (5th Sunday of Lent) – Struggling with Disappointment (John 11:1-21)
April 2 (Palm Sunday) – Struggling with Identity (Matthew 21:1-11)
April 6 (Maundy Thursday) – Living Last Supper
April 9 (Easter Sunday) – Do Not Be Afraid (Matthew 28:1-10)